The Wall Street Journal reported last week that, with nearly 2,700 homes selling for more than $100,000 above listing price over the past year, Austin, TX has become the hottest real estate market popular in the country. Oakland quintupled the number of premium $100,000 transactions, while Seattle jumped 10 times, but at 57 times last year's volume, Austin's home market is approaching mania.
With strong immigration and job growth, the supply of new homes is not keeping up with growing demand and this is what is inflating prices. With the higher cost of home ownership comes higher rents and this confirms Apartment List estimates that Austin's overall rents are up 14.9% year-over-year. In this article, we'll identify which multi-family REITs own properties in Austin and which offer the most concentrated exposure to the market.
This survey is all about the location, so initially, we're going to Portfolio Income Solutions Property Directory, orr guide to REIT-owned real estate in the top 50 US Metropolitan Statistical Areas (MSA).
By researching multifamily properties in the MSA Austin-Round Rock-Georgetown, we can see that with over 21,000 apartments, a number of businesses have already made a name for themselves in this rapidly growing market.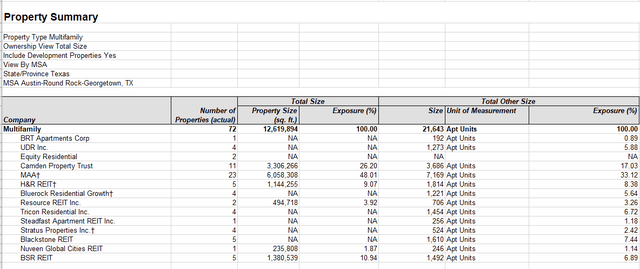 SOURCE: S&P Capital IQ
If we reduce it further to include only publicly traded, dividend-paying REITs, we can get a picture of who is exposed and where the concentration is.

Source: Data compiled by 2MCSC
With over 7,000 units, Mid-America Apartment Communities (MAA) has the most real estate, but Austin accounts for only 6% of its apartment count. Camden Property Trust (CPT) has almost 3,700 units in Austin, but with more than 62,000 units, it only represents 5.9% of its holdings. BSR Real Estate Investment Trust (OTCPK: BSRTF, HOM.UN) has only 1,492 Austin units, but with a small market cap of $470 million, these units make up 18.6% of its holdings and offer more concentrated exposure to the target market.
You have to go from Little Rock to Toronto to find this value in residential real estate in Texas.
BSR REIT's origins date back to 1956 in Little Rock, Arkansas, but when they sought to take their stock public in 2018, listing on the Toronto Stock Exchange (TSX) was the most compelling option. . You can trade HOM.UN shares in Canadian dollars on the TSX or BSRTF Foreign Ordinary in US dollars on the OTC. All financial reports and dividend payments are in US dollars.
We have shown that BSR has the greatest exposure to multifamily Austin. We now need to review the remaining 80% of the portfolio to see if it fits our targeted objective to buy in high rental growth markets.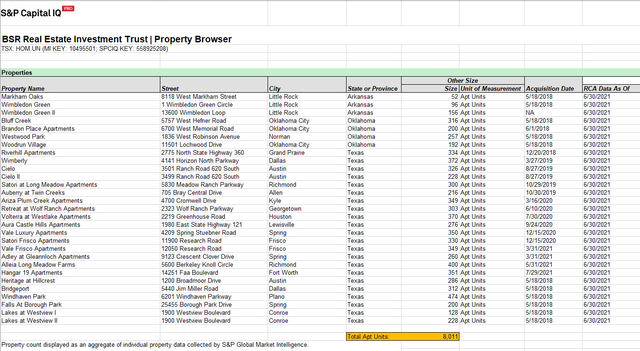 While BSR has a small exposure to Little Rock and Oklahoma City, the bulk of the portfolio is in Texas with increasing concentration in the Houston and Dallas submarkets. This is not by accident; this is the focus of BSR management's external growth plan.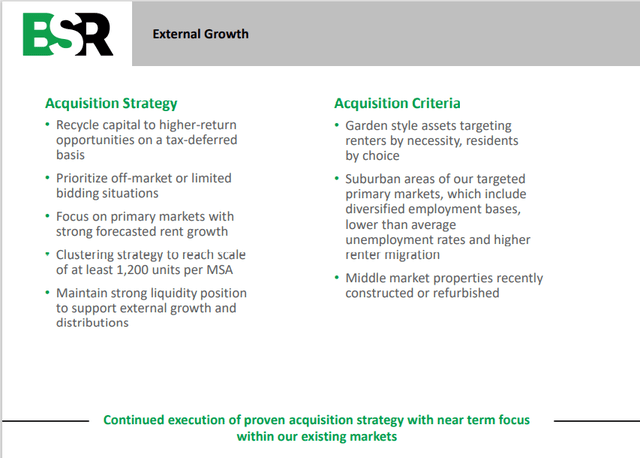 Source: BSR REIT
Capital recycling is the focus of their acquisition strategy and BSR has executed it.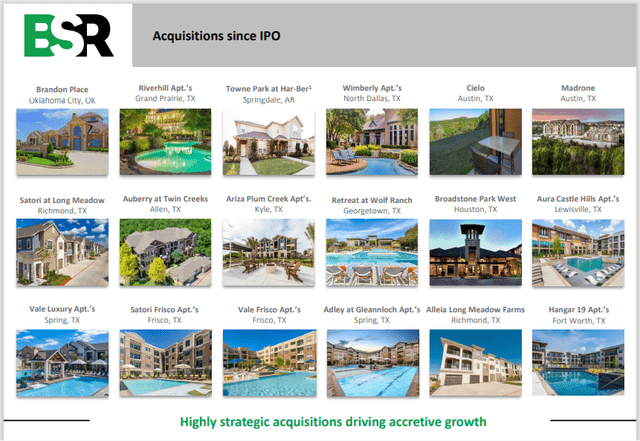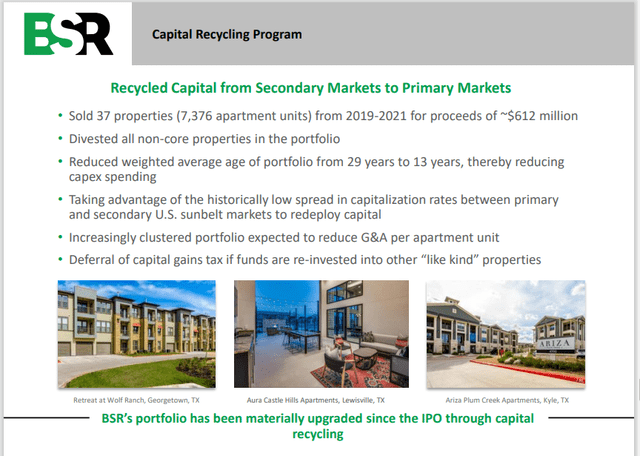 Since its IPO in 2018, the geography and demographics of the portfolio have been completely transformed.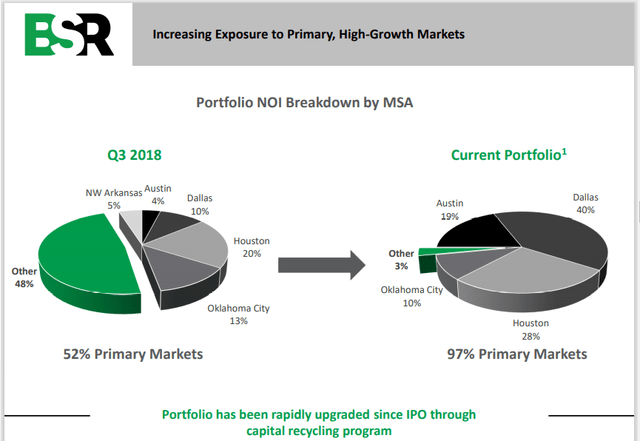 And this transformation shows that the remaining 80% of BSR's portfolio is in markets that present the
rental growth potential of Austin assets. With population growth…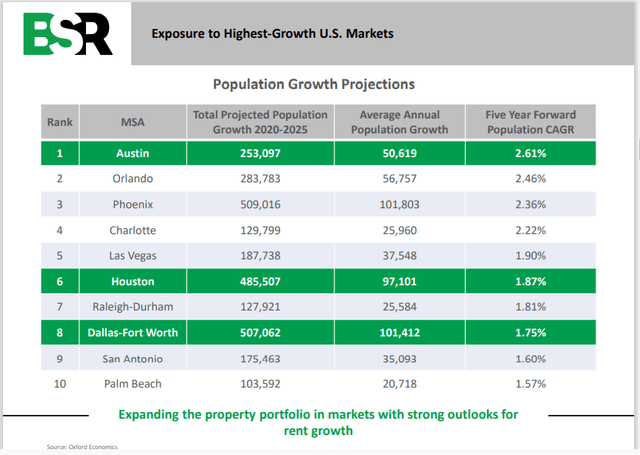 Stimulate demand and rental growth.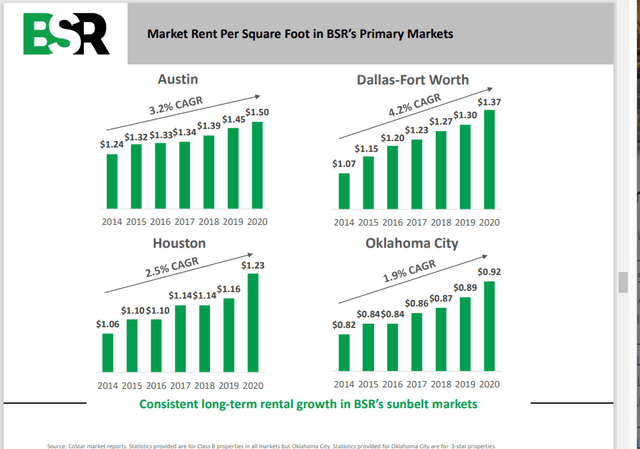 It is a very targeted strategy and many observers believe it has merit.
Target rental growth
When you consider their disparate market caps, BSRTF's grouping with MAA and CPT doesn't really look like an apples-to-apples comparison. However, these companies are each active in the multi-family real estate industry and have significant exposure to our high-growth rental target market of Austin, TX.
If we look at FFO/Share consensus estimates through 2023, we see that BSRTF is expected to grow almost 3x faster than MAA and CPT.

CPT and MAA are good companies and 16-17% FFO/share growth over the next two years is really impressive, but the point of this exercise was to find a way to focus on the high growth markets of rents. BSR's strategy of recycling capital and focusing on targeted growth markets appears to have convinced the analyst community that they will deliver higher returns to shareholders, as the sentiment analysis comparison demonstrates.



The caveat from apples to oranges
When comparing companies for the purposes of opportunity and investment potential, we can look at their relative strengths, but we also need to be aware of their relative shortcomings.
In this case, the small market capitalization of BSRTF/HOM.UN, with very little US institutional ownership, and thinly traded foreign common stocks present potential risks not present with an investment in MAA or CPT. The BSRTF's lack of geographic diversification makes it potentially more vulnerable to economic downturns in Texas. MAA and CPT holdings are geographically diverse across the United States.
What have we learned?
Reading the news every day can alert us to investment opportunities (or risks). The WSJ story mentioned at the beginning of this article informed us that keeping a roof over your head in Austin is quickly becoming more expensive. Our location-based exercise helped us identify players who are already in the game. Rents aren't skyrocketing, but it led us to further fundamental analysis.